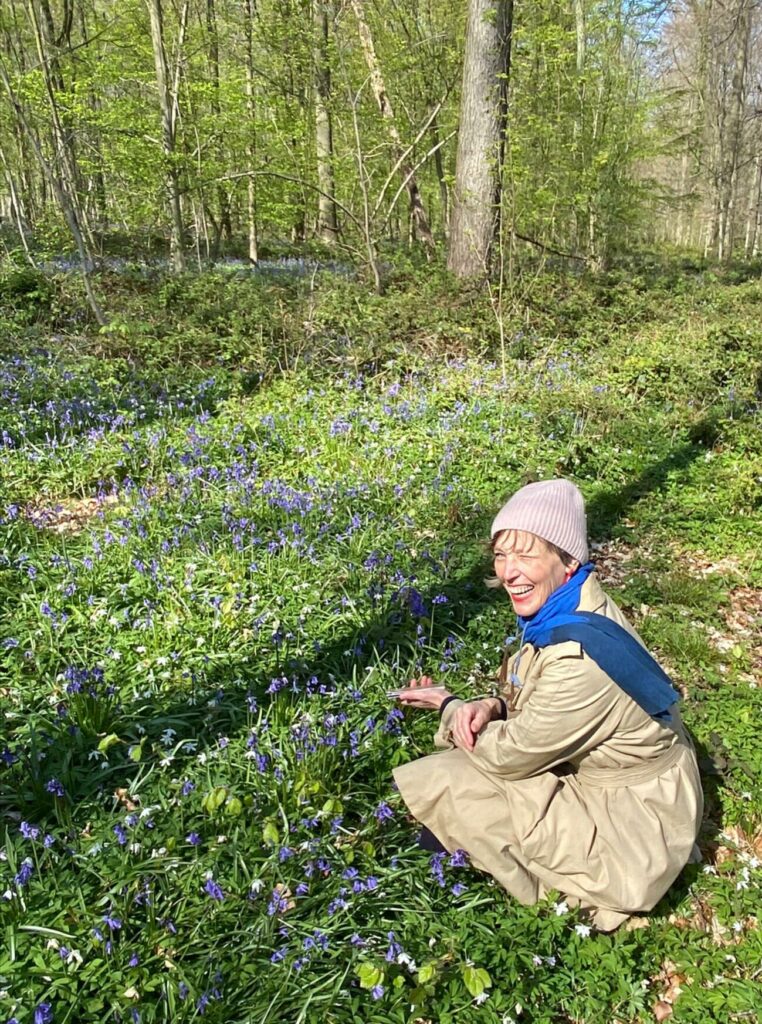 Born in Cologne in 1965 . Lives and works in Brussels.

Is currently the Director of Studio Art en Ciel Brussels.
Speaks fluently german, french, dutch and english.

Education
* MASTER in the Arts in Painting (Minor in Sculpture and Graphics) – La Cambre, Brussels
* Pedagogical certification in the Arts (Agrégation) – La Cambre, Brussels
* Lithography, Academy of Ixelles with Georges Meurant
* Art Therapy, based on Rudolph Steiner

* long practice of Yoga and Japanese Zen meditation


Art teacher since more than 20 years in the International Schools of Brussels : Deutsche Schule Brüssel, St Paul's Britisch School, Bjab Junior, as in belgian schools (Gito Tervuren, Ecole Sainte-Marie, Brussels) .
Based on her personal life and teaching experience, most of these classes were/are multilingual, which was a new concept at that time.
Since a few years now, she teaches exclusively at Studio Art en Ciel asbl, whom she is the Director too . It is a multilingual art school for kids/teens/adults, that she initiated in Brussels. In this way, she can realize her ideas about how to pass on art. Other artists also share their art, their qualities and personnalities in all kinds of art classes. You can find all info's on www.art-en-ciel.be
Since a few years now, as her vision about creating an interesting pedagogical art center is achieved, and her family life acccomplished, she comes back to her personal work. She is a versatile artist as she is comfortable with oil painting, drawing, engraving and stencil techniques, photography and collages. She is editing postcards and some books are in the make.
Recently, her visual work is focusing on using natural materials to create monotypes ,"Assemblages" and art books and is very much inspired by the nature.
PRIZES
Selected for VOCATION, Brussels in 1992

EXHIBITIONS

SOLO SHOWS

1993 "Natur und Mensch" Werner Feuerstacke, Troisdorf, West Germany
2019 IMPRESSIONS DIGITALES at ZEN Sesshin d'été, Internat de Godines, Belgium
2020 FOLIUM at Tandemm Graphik, Brussels – 6.03 -30.08
2021 EFFLEUREMENTS at Husk Gallery, Brussels – 8.05- 5.06.2021

GROUP EXhIBITIONS

1991 TREMPLIN – Château de Kareveld, Brussels – 31.10-12.11.91 (published in Molenbeek Info + Le Soir)
1992 Hôtel de Villes de Bruxelles, Grand-Place, Brussels- 10.07-30.07.92 (published in Le Soir, La Libre Belgique )
1998 Expo de groupe à LA CHOCOLATERIE, Brussels – 28.05-31.05.1998
2013 OPEN STUDIO at Rue Royale 171, Brussels 22-24 February 2013
2013 ART et ZEN at Collège de Godinne – July 2013
2020 IN ARCADIA at Husk Gallery , Brussels – 4.07-14.08.20
Worked also as actress
1982-1983 : part of a Collective of performers (Theater, dance,Sprechgesang) Rösrath near Cologne, West-Germany
1983 : "Nygorna Fraumann" – radio drama – IAD Louvain-la-Neuve, Belgium
1984 : 45 T singel music disk "Secret of Life" with the pop group ANALYSE
1985 : Son nom d'amour et de mort – Theatre Circa, Brussels (Based on Penthesilea from von Kleist) (published in Le Soir)
1986 : "Ana and the Man" – Theater Terereredum/Netwerk , Brussels/Aalst, Belgium
1887 : "Der Ring der Niebelungen" (Rossweisse) Frank and Koen Thijs – Video (Opening in MOMA, N.Y.)
1987 : main character in the movie "Ni sans toi-ni avec toi " from Annemie Vandeputte (with François Beukelaers and Dirk Van Dijk)
1988 : voice recording for the installation "Kristin" from Barbara Woutermaertens – Beaux-Arts Brussels
2020 : song recital in preparation